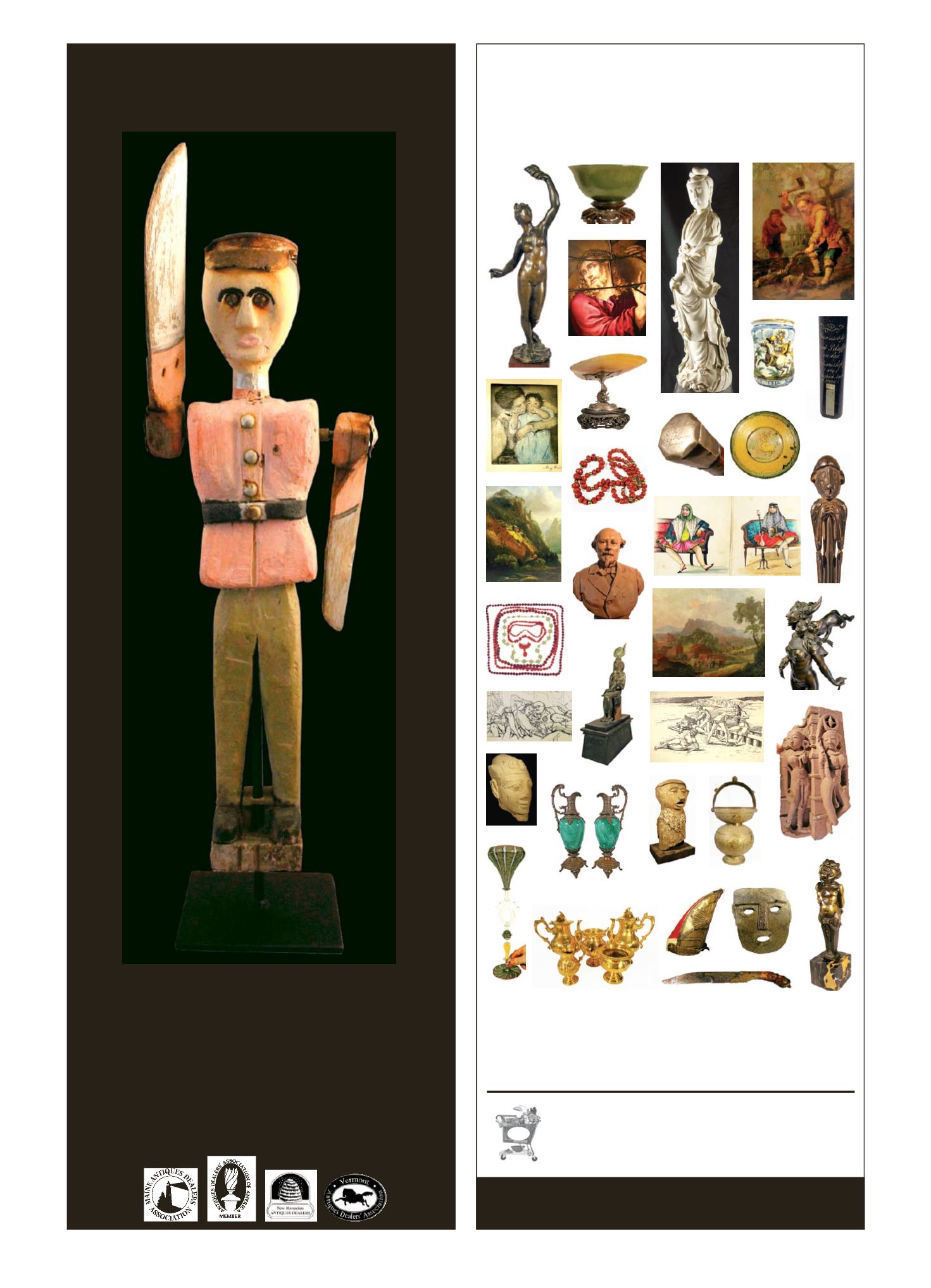 Maine Antique Digest, March 2015 11-CS
107 Exceptional Things
at LIVE ANTIQUE AUCTION
Sunday February 22 NOON
at our gallery in Canaan, Connecticut
See additional color photos & descriptions on:
live auctioneers.com
auctionzip
.com
oldcanaanmarket.com
David Mason's
OLD CANAAN MARKET
79 Railroad St. Canaan, CT
OLD
MARKET
Canaan
Live preview 10am-6pm Thurs - Sat, Feb. 19-21 Day of sale 11 am
Large Egyptian
Head
Savoie Art
Glass
Napoleonic Wars Helmet
Signed Mary Cassatt
Old Egyptian Bronze
Qianlong mark & period jade bowl, Old master paintings & prints, Renaissance bronze
venus, Ettrick N. Carolina painting, Coral, jade & amber necklaces, Important Jake
Schaefer cue stick, Pre Columbian stone & pottery, Roman bronze antiquities, 18th
century majolica, Confederate cane, Oceanic weapons, Qajar miniatures, African
American art, Egyptian bronze and sandstone.
16th c Venetian Bronze
Wang Hing Silver
Chontal Stone Mask
Qianlong Jade Mark & Period
17th century Pierre Patel Gouache
Qajar Miniature Paintings
Large Kwan Yin signed
He Chaozong
N. Carolina oil
"On French Broad"
Early Stained Glass
Michael Parkes Bronze
Bronze Satyr
Vera Cruz
Figure
Jake Schaefer
Championship
Cue
Calvin Burnett Pen & Ink
American Gold Plated Tea Set
Ceylonese Knife
Coral necklace
Lime Spatula
Indian Sandstone Carving
1703 Majolica
Original Pickhardt Beach Scene
860-453-4110
Ostade Oil on Panel
South Carolina
Confederate Cane
Fine Coral, Amber & Jade
Darcq Terracotta
1883 Paris Salon
Persian Pottery Bowl
Glass Ewers WMF Mounts
Indian Gilt Brass
Spittoon
www.DennisRaleighAntiques.com
cell 734 604 0898
dgraleigh@myfairpoint.net
Dennis Raleigh
American Antiques & Folk Art
Large 19th-century Policeman Whirligig
Hand-carved wood and metal construction.
Original paddles and mostly original paint.
Some very minor touch-up.
24 inches tall on a custom metal stand.
Stunning color and surface which defines excellence.
Wiscasset, Maine