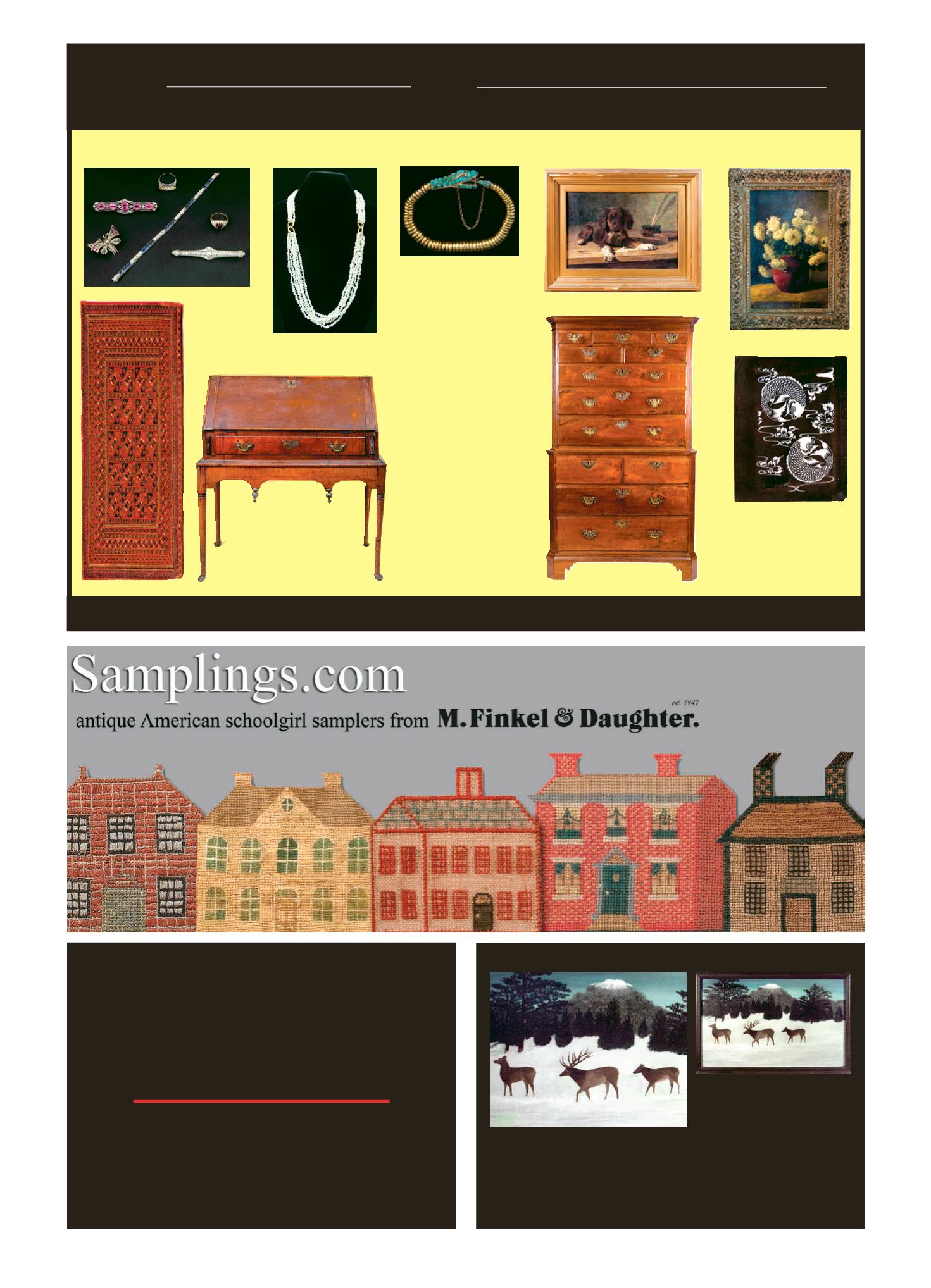 10-CS Maine Antique Digest, March 2015
www.snyderwilsonantiques.com
Robert Snyder - Judy Wilson
Americana - Folk art
Mac & Trish. Call 315-481-0724
We guarantee without a time limit
the authenticity of our paintings.
FAMILY OF DEER: "BAD WEATHER COMEING" (sic)
This folky painting captures the feel of the deer bracing for the storm. Where to go? The big guy will make the
decision after mama takes it all in and decides what's best! Oil on masonite, approximately 19" x 31½", framed
23" x 34¾". On back, think it says, "Frank Crane, Addison, NY." Probably 1930s-1940s. Recently cleaned.
What is rather unique here: We know the charming scenario that is being played out because the title conveys
exactly what is being looked at in the unseen distance and the decision that has to be made by the deer.
Twenty percent of the proceeds donated in cash or in kind to museums
that feature large, wild, quadrupeds of North America.
INC
WILLIS HENRY
AUCTIONS
781-834-7774 -
wha@willishenry.com
www.willishenryauctions.com
SAT. & SUN.,
MARCH 28 & 29, 2015
RADISSON HOTEL,
PLYMOUTH, MA
781-834-7774
22 Main St., Marshfield, MA 02050
ANTIQUE ESTATES AUCTION
Willis & Karel Henry
Large collection of
antiques from several
South Shore estates
featuring: period
furniture and many
case pieces, collection
of Oriental rugs, fine
art by listed American
artists, Asian antiques,
and a Duxbury
estate collection of
high quality jewelry
(platinum and gold,
pearls, many precious
stones).