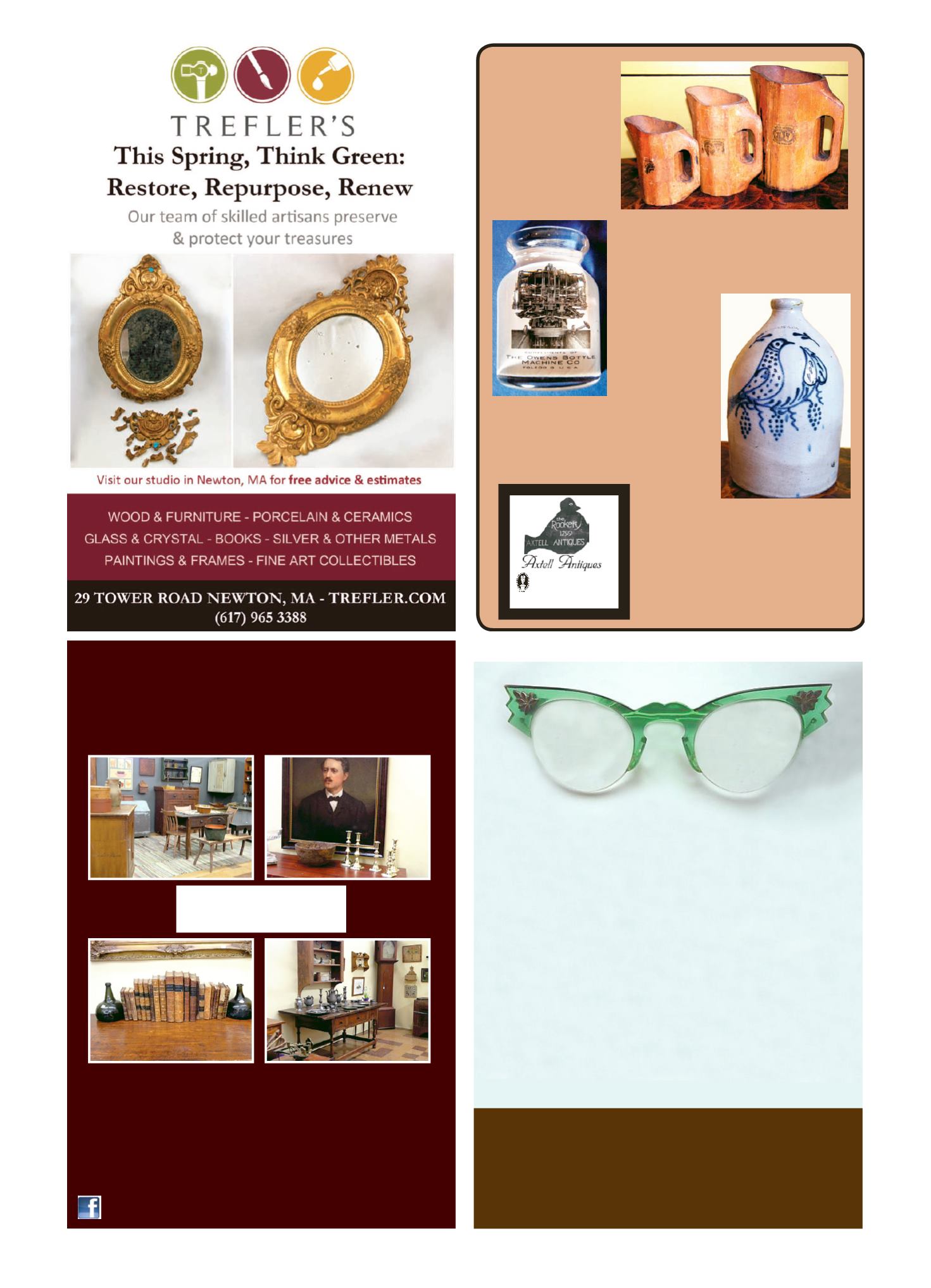 6-CS Maine Antique Digest, March 2015
1 River St., Deposit, NY 13754
Now openTuesday throughSaturday 10:00 to4:00.
607-467-2553 e-mail:
rsaxtell@msn.com
- EARLY AMERICANA -
RICHARD S. AXTELL
• FOLK ART • BASKETS & STONEWARE
• HEARTH ACCESSORIES • AMERICAN
& REDWARE • EARLY LIGHTING
COUNTRY FURNITURE • TREENWARE
Axtell Antiques
1 River Street
Deposit, NY
TheRookeryBookery.com
607-467-2553
Bottle-Shaped Glass Paperweight
A very rare, figural bottle-shaped clear glass advertising
paperweight, circa 1890. Shows a bottle-making machine
and reads "compliments of the Owens Bottle Machine
Co., Toledo, O USA." The dimensions are 3" x 4" x 1½".
Noggin Set
A set of three noggins which
were made from block
maple. These items contain
the original labels of the
L. Bauerle Company, the
manufacturer. They measure
6", 7½", and 8¾" tall
respectively.
Stoneware Jug
A three-gallon stoneware
jug in near mint
condition. It stands 16"
tall and is decorated
with a cobalt-blue polka-
dotted peacock with its
tail down, with three
clusters of hops and a
heart-shaped hop leaf.
Signed "Edmonds and
Co." Circa 1860.
Douglas County Museum
700 S. Main
Tuscola, IL
March 6th & 7th, 2015
Rural Life Antique Show
Rural Life
Antique Show
Rurallifeantiqueshow.com
Friday & Saturday: 9 am - 4 pm
2 Locations:
Community Building
112 W. North Central
Call for information: 217-722-0401
American • Antiques
Primitives • Folk Art
Be
seen
every month
when you advertise
in
Maine Antique Digest.
M.A.D.
has an ad size
to meet every need and budget.
Call or e-mail toda
y and see what we can do for you.
1-877-237-6623 •
ads@maineantiquedigest.com
Dale Flagg – Advertising Manager
www.maineantiquedigest.com/advertising