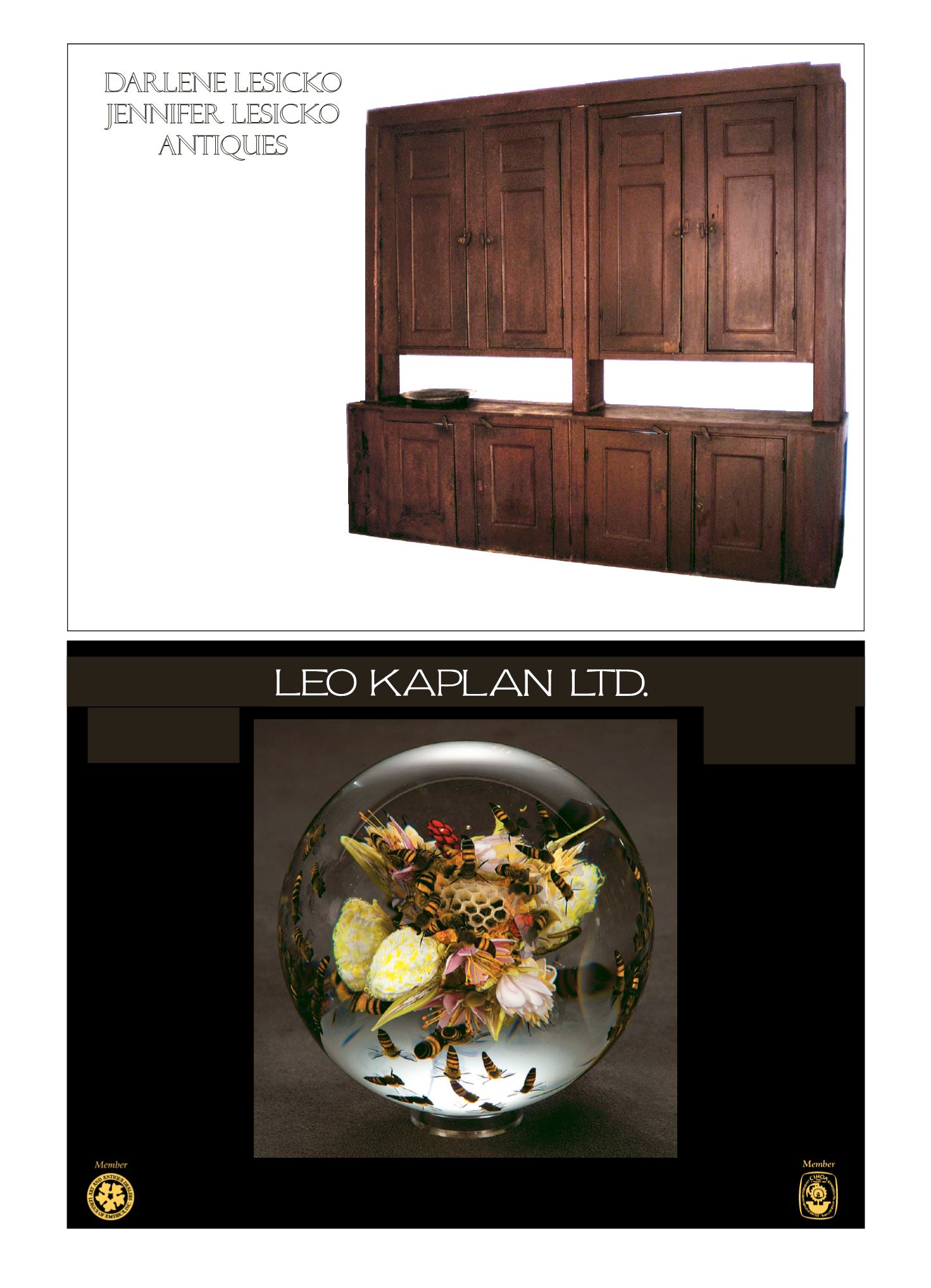 Maine Antique Digest, March 2015 7-CS
114 EAST 57th STREET
(between Park and Lex.)
New York, NY 10022
Tel (212) 355-7212
Fax (212) 355-7209
info@leokaplan.com
TWO FINE ST. LOUIS "VERRE D'EAU" SETS, FRENCH CIRCA 1850
114 EAST 57th STREET (between Park and Lex.) New York, NY 10022
Tel (212) 355-7212 Fax (212) 355-7209
info@leokaplan.com
2520-LEO KAPLAN MadMarch:Layout 1 1/25/12 12:46 PM Page 1
T FI E ST. LOUIS "VERRE 'EAU" SETS, F E CH CI CA 1850
14 EAST 57th STR ET (betw en Park and Lex.) New York, NY 1 0 2
Tel (212) 3 5-7212 Fax (212) 3 5-7209
info leokaplan.co
2520-LEO KAPLAN MadMarch:Layout 1 1/25/12 12:46 PM Page 1
A BEAUTIFUL PAUL STANKARD LARGE PAPERWEIGHT ORB FROM THE "FLOWER,
FRUIT, AND NUT" SERIES WITH BEE SWARM, AMERICAN 2014.
Darlene Lesicko
Jennifer Lesicko
Antiques
Specializing in early country furniture and smalls
Attic surface or original paint
By Appointment Only • WATERLOO, IL • TEL. 314-808-7557
Rare Original Red-Painted Buttery Cupboard
Early Construction … Pegged, Chamfered,
Beaded, Original Hardware
Saved from an Early 1800's Log Cabin with
Original Log Barns and Stone Springhouse.
Measurements are: 9' L x 8' H (top trim board can
be adjusted exactly to your height) x 21" D.