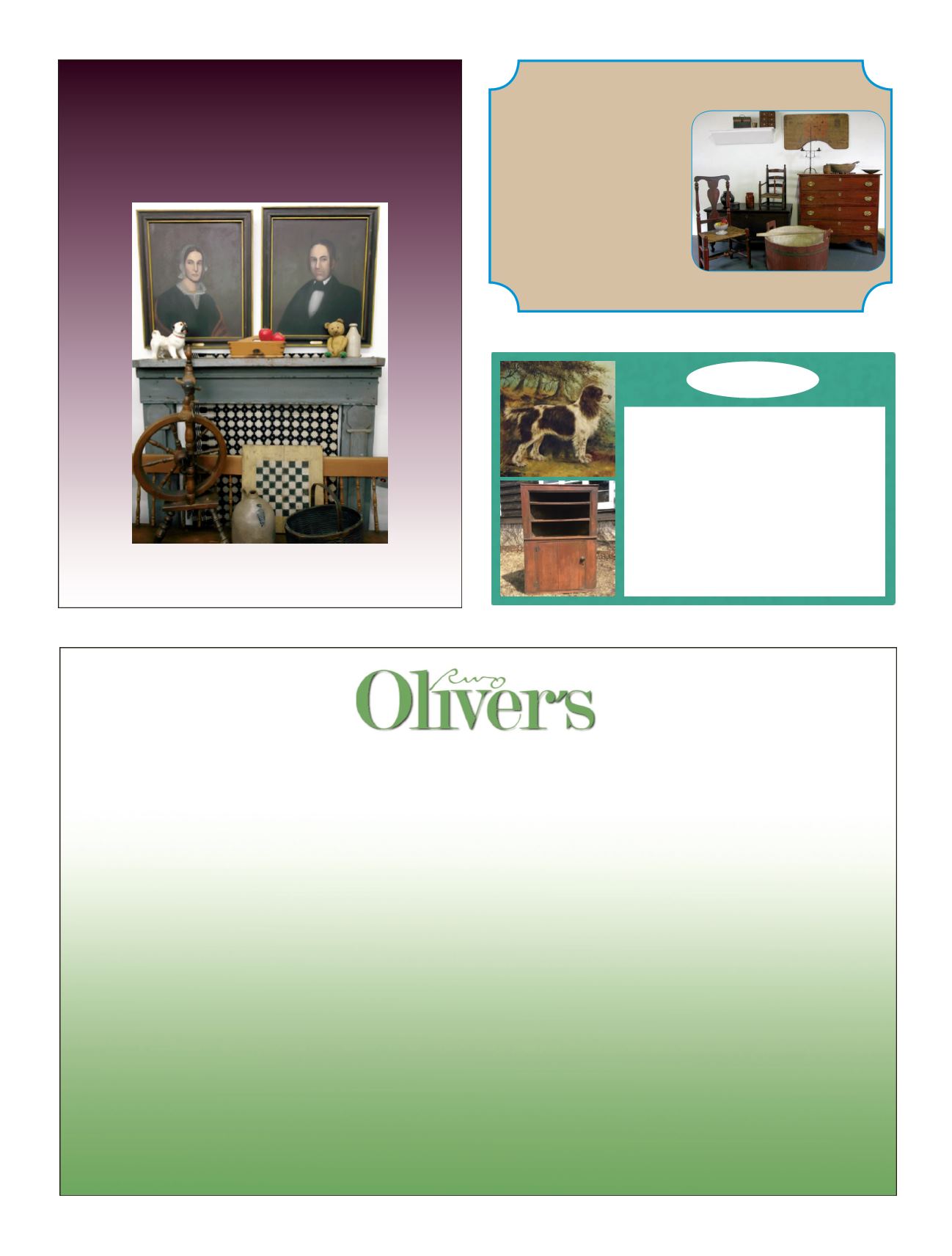 M
aine
A
ntique
D
igest
2016 A
ntiques
T
rade
D
irectory
9
740-363-1405
www.SanduskyStreetAntiques.com
Sandusky Street Antiques
Explore our large collection of clocks,
furniture, paintings, toys & dolls, jewelry,
folk art, primitives, samplers & more.
Open 7 days a week in historic downtown Delaware, Ohio
30 N. Sandusky Street,
Delaware, Ohio
www.griffithsantiques.com
Griffiths Antiques
18th and 19th century Furniture,
Accessories, and Folk Art.
David & Becky
Griffiths
603 Pleasant St.,
Utica, NY 13501
315-580-2274
Open by appointment
Just minutes from NY thruway
collectivator
www.collectivator.com
Collectivator is a curated market with high
quality independent sellers. Browse an
antique show in the comfort of your own
home! Regularly updated stock includes:
Looking for
real
antiques and vintage?
Antique Furniture, Folk Art,
Vintage, Textiles, Fine Art, Pottery
Collectibles, Advertising & More
Professional Center Suite 8B 58 Portland Road (Rte. 1) Kennebunk, ME 04043
Celebrating 40 years in Art and Antiques
Auctioneering – Appraising – Consulting
Still holding world-record prices - Still paying world-record prices
Free Appraisals at our Office (by Appointment Only)
Looking to acquire:
Americana - Oriental Art - American Folk Art - Paintings -
Marine Items - Decoys - Fishing & Other Sporting Items
Call: 207 985-3600
Visit our website at:
www.rwolivers.com
• Email:
Olivers@RWOlivers.com
Senior Professional Appraiser, National Association of Professional Appraisers • Auctioneers: R.W. Oliver, Mass. Lic, AU824, R.W. Oliver II, Maine Lic. AU C1350
We have private collectors interested in purchasing the above-listed items. We are also interested
in acquiring quality consignments of great and interesting items, collections or entire estates.
Notable transactions have included the Andrew H. Green Estate Auction (known as the Father
of Greater New York, Mr. Green was one of the founders of the Metropolitan Museum of Art
in New York, and was instrumental in building Central Park); the auction of the I.G.F.A. Hall-
of-Famer Billy Pate Estate collection of fishing memorabilia; the appraisal/valuation of the golf
collection of the world-famous golfer Jack Nicklaus, for his museum.