48 / 48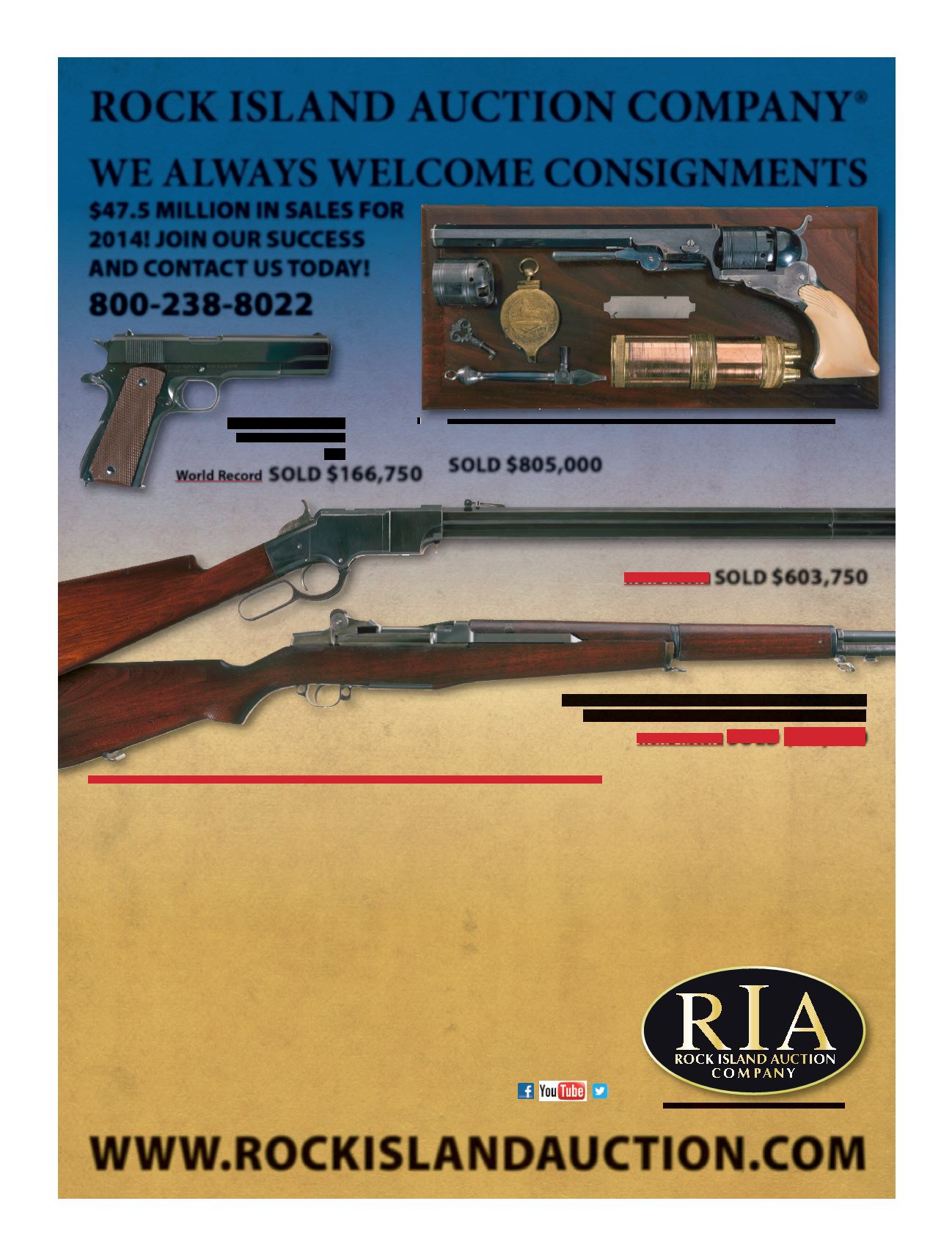 To consign with the world's #1 rearms auction company contact Patrick Hogan,
Kevin Hogan, Jessica Tanghe or our Acquisitions Department Today by calling
800-238-8022 or Email:
guns@rockislandauction.com
WWW.ROCKISLANDAUCTION.COM
Profoundly Rare and Equally Magni cent Cased Colt No. 5 Texas Paterson
with 6 Silver Bands, 9" Barrel, Loading Lever and Carved Grips
Extraordinary Singer Manufacturing
Co. Model 1911A1 Semi-Automatic
Pistol with History
Historic and Extremely Rare Serial Number "7" Spring eld
Armory Shop Model M1 Garand Semi-Automatic Ri e
7819 42
nd
Street West, Rock Island, IL 61201
PHONE
:
309-797-1500 or 800-238-8022
FAX
:
309-797-1655
EMAIL
:
info@rockislandauction.com
Fully Licensed Class III Auctioneer
Follow RIAC on Facebook,
Twitter, and YouTube!
SOLD
$805,000
SOLD
$166,750
World Record
World Record
World Record
SOLD
$97,750
To Order Your Full-Color 3-Volume Set Premiere Firearms Auction Catalog ($60 Inc. S&H) Or
To Order Your Regional Firearms Catalog ($35 Inc. S&H) Call (800) 238-8022
SELLWITH THE BEST, IT'S ALL IN THE TIMING SO DON'TWAIT.
• The sooner we get your items in house, themore exposure they will receive fromour worldwide advertising andmarketing. Our advertising campaign remains
unmatched. Each year we place hundreds of ads in leading industry publications as well as strategic investment campaigns inmajor national newspapers which
includeTheWall Street Journal, USAToday, ChicagoTribune and Baltimore Sun.The fruits of our marketing e orts result in thousands of sealed and telephone bids
per auction and hundreds of live bidders fromaround theWorld.
• The nest auction catalogs and brick andmortar auction facility in North Americamake Rock Island Auction Company a destination for themany serious rearms
collectors and investment buyers. Since 2004we have soldmore rearms than any other auction house in theworld.
• Consign one gun or an entire collection - either way wewill get you themost
money.We
cater to all levels of collectors, whether the rearm is valued at $1000 or $1
million dollars.
• RIACworks with trust advisors, estate planners, estate lawyers, and
collectors.We
encourage you to take care of your family bymaking plans now.Whether you
have a large collection of rearms or rearms that have signi cant nancial value it is important to have a plan in place andwe can help. Our contracts are themost
competitive in the industry; simple, straight forward, with no hidden fees or extra
charges.We
are also prepared to purchase by private treaty or third party.
• THERE IS NO LIMIT TOWHATWE CAN BUY!
ROCK ISLAND AUCTION COMPANY®
WE ALWAYS WELCOME CONSIGNMENTS
THE #1 FIREARMS AUCTION HOUSE IN THEWORLD FOR ELEVEN CONSECUTIVE YEARS!
$47.5 MILLION
IN SALES FOR
2014! JOIN OUR SUCCESS
AND CONTACT US TODAY!
800-238-8022
The World Leader for Quality
Collectable and Antique Firearms
®
The Finest Iron Frame Henry Lever Action Ri e in Existence
SOLD
$603,750